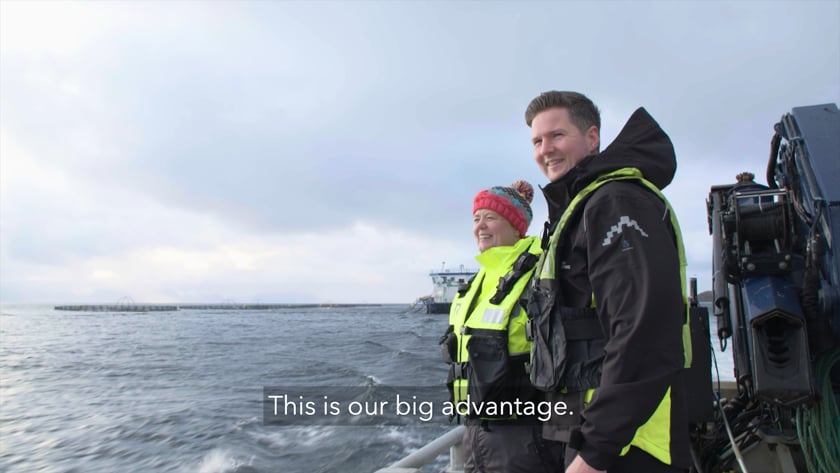 What is the Fjord Hybrid solution?
Fjord Hybrid reduces fuel consumption in fish farms by up to 60 per cent. The solution automates power supply and optimises use of generators, batteries, electrical drives, and control systems.
As the aquaculture industry grows, it becomes increasingly difficult to power fish farms in a sustainable manner. Diesel generators create local sea and air pollution as well as greenhouse gas emissions. On top of these negative environmental impacts, fuel costs are on the rise and comprise a substantial part of expenses for aquaculture operators.
Automated power supply
To better manage power supplies for fish farms, Fjord Maritime has created the Fjord Hybrid® solution. Fjord Hybrid automates power generation and supply for an individual fish farm, optimising all aspects of operation and reducing generator running time by up to 90 per cent.
By cutting running time for generators, Fjord Hybrid also reduces service and maintenance costs, as well as eliminates noise for workers on the barge and any neighbours.
Fjord Hybrid is a plug-and-play system delivered in a container, which can be placed at any suitable location on board a barge – and easily moved from one fish farm to another. The system can also be directly installed inside a vessel, without the need for a container.
Concrete benefits
Fjord Hybrid reduces fuel consumption in fish farms by up to 60 per cent, resulting in a corresponding reduction in costs.
Using Fjord Hybrid, fish farms can run their generators for three hours per day, instead of 24 hours, which is the current norm. This cuts greenhouse gas emissions by up to 90 per cent compared with traditional operations.
Moreover, reduced running time can extend the lifetime of fish farm power supply systems by up to 60 per cent.
Utilizes capacity
FJORD HYBRID® uses the spare capacity left on the generator to charge the batteries while the generator feeds the rest of the barge with electricity. When the batteries are fully charged, the generator stops and FJORD HYBRID® operates the system and the grid is solely run on batteries.
The energy demand through a production has large variations and fluctuations. The most energy-intensive periods constitute a very small percentage in total, during a production, but it is that period that is the foundation and design criteria when sizing the diesel generators. Meaning, that the user ends up with an oversized diesel generator, giving a low efficiency and minimum kW. pr. litre of diesel.
When purchasing and installing the FJORD HYBRID®, the running time of the diesel generator is reduced to a minimum. Handling the energy peaks and different phases in the production, is no problem for the FJORD HYBRID. The system always gives the fish farmer maximum number of kWh. pr. liters of diesel fuel, which in turn reduces the greenhouse gas emissions to a minimum. Fuel consumption and service requirements are greatly reduced. The life of the diesel generator multiplies.
Furthermore, we are now working on system solutions where we will offer renewable energy production in a cost-effective way.
Standardized system delivery
Since the end of 2016, Fjord Maritime has focused exclusively on the development of FJORD HYBRID®. Our complementary background and over 40 years of experience in the aquaculture industry have given us the insight needed to develop FJORD HYBRID® from the customer's point of view. Just over 50 inspections and power measurements on feeding barges have formed the basis for the right development and dimensioning of the solution. FJORD HYBRID® is a standardized system delivery that give our customers maximum kWh per. litre of diesel and as fast payback time as possible per. project.
We have standardized the size of the energy storage system and have a serial production of FJORD HYBRID®. Each system undergoes complete system testing before being delivered to the customer. In this way, we ensure the quality of the entire delivery as well as efficient integration with existing and new feeding barges.
The Fjord Hybrid solution is monitored and potentially operated remotely through Fjord Maritime's Fjord Control system. The solution continually transmits information about status and any unexpected events, meaning any necessary corrections can be performed remotely and in real time, thereby securing maximal uptime.